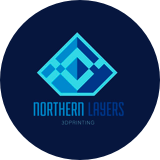 "Before we found DigiFabster, we had begun working on our own web-based system. Our development costs would have easily exceeded 25,000 EUR (over $30,000 USD) and our hosting costs alone would have been over 200 EUR per month. That excluded further development and ongoing maintenance. We dropped the project the moment we found DigiFabster, writing off the 10.000 euro already spent. So we saved at least 15.000 EUR. I believe we'll really see strong ROI when we scale the system further, as it can easily help us handle huge droves of customers"
When it comes to web-based software, companies in many emerging industries must make the decision to build or buy. In some cases there's not much choice, but as markets mature software-as-a-service often becomes a better option. For Northern Layers, the opportunity to utilize DigiFabster allows them to focus on their core competency.
The 3D printing industry is developing rapidly and service bureaus like Northern Layers are often on the leading edge. They spend a significant amount of time learning about new technology and making smart decisions regarding equipment purchases. Then as they bring new capabilities online, they have to communicate those capabilities to potential customers. Evangelism plays a big role in their potential success.
"I think 3D printing is only at about 10% of its potential with current technologies," says Mr. Shea. New capabilities are being developed far more quickly than they can be applied. We need to find innovative ways to inspire people in all industries to utilize the technology. For a service bureau like Northern Layers, it can be a big competitive advantage. But it's also a daunting task because it requires people to change their current processes and that's always difficult, especially when you're coming from the outside and suggesting a whole new line of thinking."
With support from DigiFabster, Northern Layers is leveraging automation to focus on higher level activities that help it uncover killer applications and grow its business in an ever-changing market.
To learn more about Northern Layers, we encourage you to visit their website.